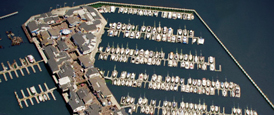 Docking at Northern California's Number One Attraction!
The PIER 39 Marina features approximately 300 double-fingered wooden dock boat slips.
The West Yacht Harbor, rebuilt with brand new docks and dredged to -9 ft at low tide in 2010, hosts guest docking and accommodates boats up to 60 ft.
The Marina's East Yacht Harbor consists of long-term and transient tenant boat slips, accommodating boats up to 85 ft.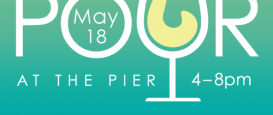 Spring Wine Pour
May 18 @ 4:00 pm – 8:00 pm
Grab your friends and head to The PIER for an evening of wine, music and fun at the PIER 39 Spring Wine Pour on Friday, May 18th! Stroll The PIER and stop by participating businesses to enjoy wine tastings, exclusive discounts, and entertainment from 4 – 8 PM. Don't forget to make a reservation for dinner following the event at one of PIER 39's restaurants!
Attendees will receive wine tastings, discounts at participating businesses, a commemorative wine glass and more. Early Bird tickets are $20 until April 18, 2018 and Advance tickets $25 until May 17, 2018. A limited number of tickets will also be available day-of in the PIER 39 Entrance Plaza for $30 (cash only).
A portion of ticket sales will benefit Aquarium of the Bay's free conservation education programs for Bay Area children.
Check website for the list of participating businesses and wineries.
Presented by PIER 39 and Steven Restivo Event Services, Inc.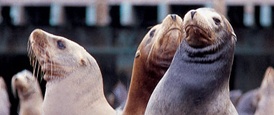 Don't Call Them "Seals"! Check out the Sea Lion Cam at K-Dock!
The first few sea lions hauled out on the West Yacht Harbor's K-Dock shortly after the 1989 earthquake.
By January of 1990 PIER 39 Marina had almost 800 animals frolicking around K-Dock in the water and on the boat slips.
Eventually, we relinquished K-Dock, relocated the boats and converted the boat slips to accommodate the Sea Lions in their chosen haul out site.
(415) 705-5436
FAX (415) 800-6688